H-Beam CNC Plasma And Flame Cutting Machine
Brief Introduction
H Beam cutting Machine is specially designed for cutting beams, including H beam, I shaped beam, angle steel, channel steel, etc. It can cut stainless steel, carbon steel, aluminum, and other non ferrous metals. It's widely used in steel structure construction, shipbuilding, bridge fabrication, rail way, marine engineering, web structure, building walls, towers and mechanical engineering industries, etc.
H Beam cutting line is mainly consists of Auto-loading and unloading equipment, Auto-feeding in and feeding out equipment, conveyor liner guide, clamp, cutting unit, and control system.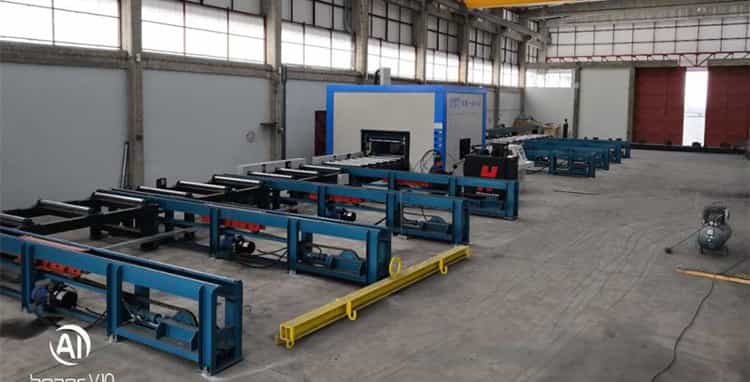 Parameters
Model

H beam cutting Machine

H beam

100-800mm

Effective cutting length

12000mm

Cutting length deviation

±1.5mm

Bevel cutting

±45°

Workpiece cutting process

Cut any shape and cut hole in flange side and web side

Cutting method

Plasma and flame

Plasma power

Hypertherm

Flame cutting thickness

6-60mm

Computer

Taiwan Advantech Industrial Computer

Driving motor

Servo motor

Software

Auto profile

Load

5t

Weight and size

Size

Can be customized according to your factory space

Shipping

Two 40ft containers

Weight

17T

Working condition

Working pressure of compressed gas

Above 7mpa

Require gas flow of plasma

4500L/H

Working environment

Ventilation , no concussion

The acceptable temperature around

-20℃ -50℃

Voltage

Machine :220/380V ,50/60HZ

Power wattage

5KW

Types of gas

Plasma :Air ,

Flame :Oxygen+Acetylene /propane

Features
1. Adopt welded platform, improving the overall bearing the weight by heavy rail, humane design human-computer exchange more convenient and reasonable, stable operation and increased life expectancy.
2. Professional special-shaped pipe cutting system, the AutoCAD platform application development based on the two time, convenient and fast modeling, arbitrary graphics overlapping stick out a mile, can directly generate standard G code. The 3D simulation, operation, nodal expansion, super long pipe fittings such as spin off, optimization, EGES DXF SAT and STL software compatibility of ultra large.
3.Advantech industrial computer programming can be directly on the machine. Using menu type programming to select input cutting parameter , such as outer diameter, wall thickness, bevel Angle, deviation, compensation data, and so on. At the same time a seamless connection can be made by other professional software.

Advantages
1.TEKLA, AutoCAD support
2. With graphics library
3. Intuitive three-dimensional imaging
4. Dynamic cutting simulation
5. Fast automatic positioning, pause and acceleration control
6. It has the original track to return to the cutting function
7. Automatic alarm display and automatic diagnosis function
8. Online and offline programming
9. Exchange information through the USD drive
10. The multi-profile intersecting is formed at one time
Cutting Samples
Our Services
1.Two years warranty, free maintenance throughout service time. If Spare parts are broken, maintenance or replacing of new parts are free.
2.Free technical support through email, telephone, online chat tools such as Teamviewer.
Teamviewer is our remote assistance application that allows our engineer to help solve your technical query.