3 Axis Steel Pipe CNC Plasma And Flame Cutting Machine
Brief Introduction
Available for cutting any complex plane graphics, support for flame and plasma cutting; A substitute for manual torch, semi-automatic cutting machine and profiling cutting machine as an upgraded product; especially suitable for high-precision required complex graphics mass production, can greatly improve cutting efficiency, reduce secondary processing, and decrease the production cost.
Parameters
Model

3 Axis CNC Pipe Cutting Machine

Cutting range

Pipe Length: 6M, 9M, 12M

Machine size

6800*1600*1800

Cutting method

Flame/Plasma

Cutting thickness

Flame cutting: 6-60mm

Plasma cutting: according to plasma power

Plasma cutting speed

According to plasma power

Control system

F2300B

Plasma cutting speed

500-3500mm/min

Plasma torch anti-collision protection system

Yes

Driving method

Servo

Software

PIPE2012

Working condition

Working pressure of compressed gas

>7Mpa

Required gas flow of plasma

4500L/H

Working environment

Ventilation, no concussion

Power voltage

5KW(not include plasma power)

Types of gas

Acetylene Propane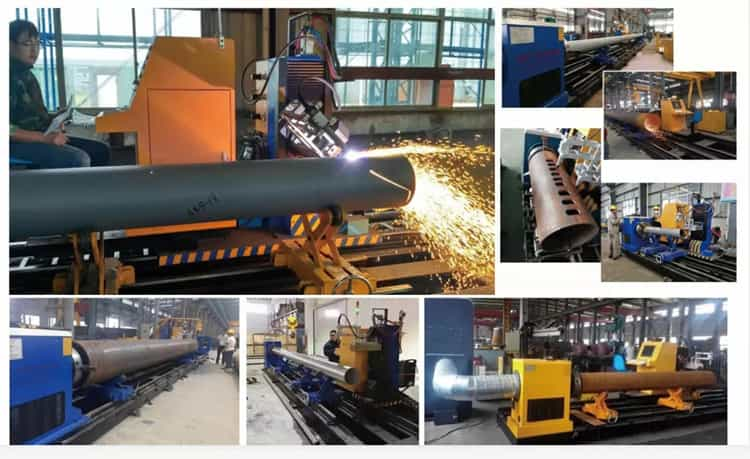 Features
Small in size, interference resistant. The device uses the Sino-US joint venture specializing in industrial machine control, to be compact and reasonable structure design it has a light weight, small size, easy to move, and is suitable for indoor and outdoor, especially small and medium enterprises, improve production material utilization efficiency and reduce production costs
Simple Programming Nesting:
Either the manual programming of simple graphics, but also can be arbitrarily complex graphics automatic nesting program was presented by the programming software. The software uses an interactive dialogue, the graphics data is automatically converted, without manual coding, the Auto CAD drawing parts diagram direct deposit, withdraw DXF files, making emissions, select the appropriate program parameters directly after cutting required to generate G-code file
Simple operation:
When the same operation can be like a semi-automatic car manual cutting, but also the same as the large CNC automatic cutting (you can jog lift).
Functions
1.Intersection cylindrical hole cutting of different directions and diameters on main pipe for vertical intersection between branch pipe and main pipe.
2.Intersection cylindrical end cutting on brand pipe for vertical intersection between branch pipe and main pipe.
3.Bevel cutting on Pipe end.
4.Welding Elbow cutting on pipe.
5.Branch pipe Intersection end cutting connected with ring main pipe.
6.Square hole and branch hole cutting on pipe.
7.Cutting off of pipes.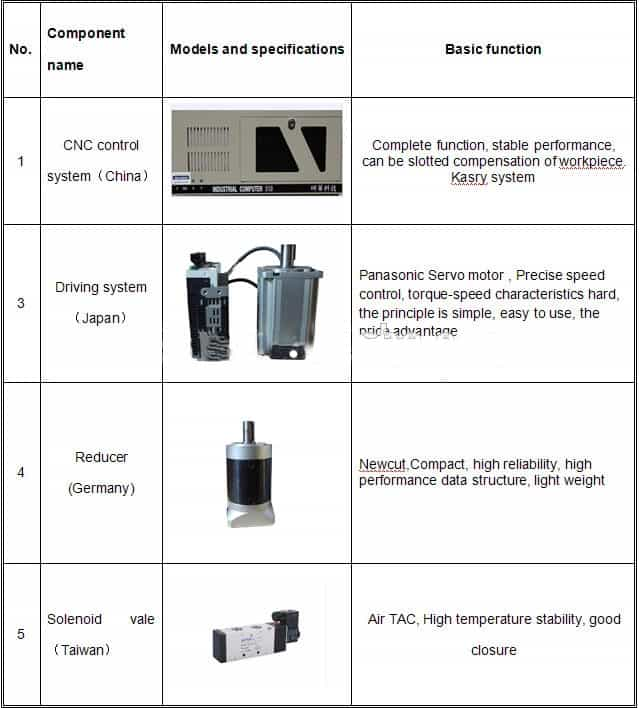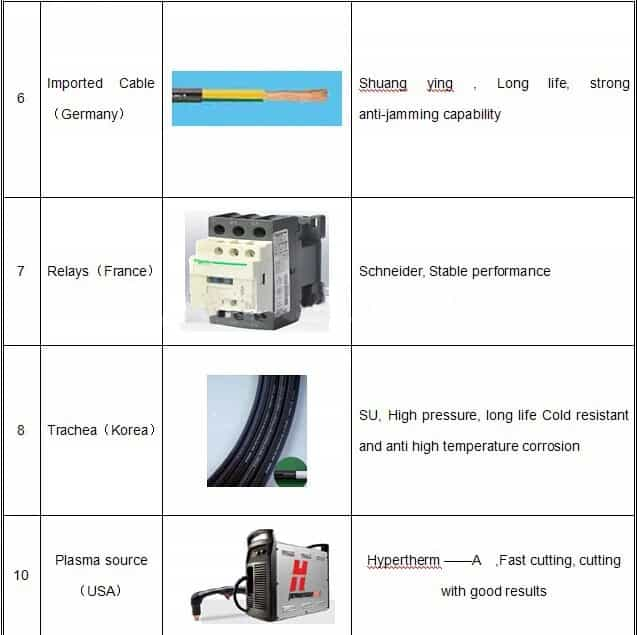 Software Advantages
1. It's easy to operate as model making is easy . with simple training , the user can operate. You just need to input wall thickness , bevel angle , threading length on the software, it can cut directly with the graphics in the gallery .
2.Our software has good compatibility , support TEKLA, AutoCAD, 3D ,3S, STCAD.
Compatible with the famous Steel structure software TEKLA, simple operation, to avoid the design and secondary modeling.
3. Optimized nesting method can save 1-2% of the material. Support continuous cutting.
4. The software can enjoy lifetime updates for free
5. Support small angle cutting and twist angle.
Cutting Samples

Our Services
1.Two years warranty, free maintenance throughout service time. If Spare parts are broken, maintenance or replacing of new parts are free.
2.Free technical support through email, telephone, online chat tools such as Teamviewer.
Teamviewer is our remote assistance application that allows our engineer to help solve your technical query.