8 Axis All Metal Pipe CNC Plasma And Flame Cutting Machine
Brief Introduction
Plasma cutter, metal plasma cutter, cnc cutting machine, 8 axis cnc cutter
This machine is specially developed to cut all kinds of metal pipes, including round pipe, square pipe and rectangular pipe. It can cut carbon steel, stainless steel, aluminum, widely used in steel structure construction, shipbuilding, marine engineering, bridge, the elevator industry, building walls, bridges, towers and mechanical engineering industries, etc.
Parameters
Model

8 axis All Pipes Cutting Machine

Cutting range

6M,9M,12M(length can be customized)

Machine size

7800*1800*2000mm

Cutting method

Flame/Plasma

Cutting thickness

Flame cutting: 6-60mm

Plasma cutting: according to plasma power

Flame cutting speed

20-700mm/min

Control system

Advantech industrial computer

Plasma cutting speed

According to plasma power

Plasma torch anti-collision protection system

Yes

Driving method

Servo

Software

PIPE apply software

Working condition

Working pressure of compressed gas

>7Mpa

Required gas flow of plasma

4500L/H

Working environment

Ventilation, no concussion

Power voltage

5KW(not include plasma power)

Types of gas

Acetylene Propane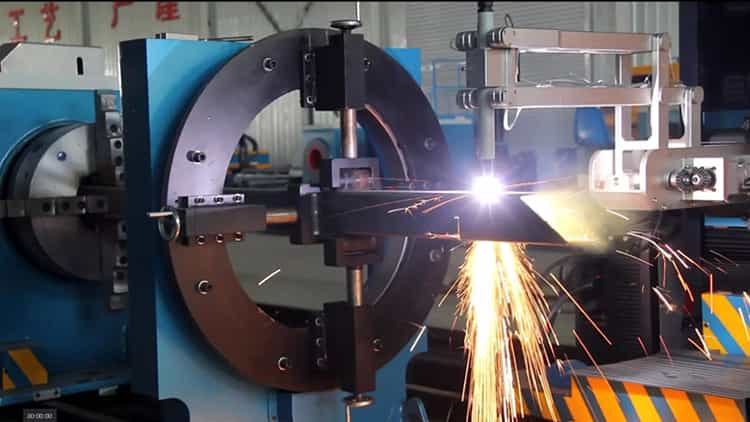 Features
1. AUTOCAD space programming system configuration YOMI application plug-ins, modeling at a glance, enabling the cutting process requirements rectangular, tapered, polygonal, oval-shaped pipe, and other special fittings.
2. Independent research and development to optimize CNC pipe systems with large EGES DXF SAT and STL software compatibility.
3. YOMI-users can enjoy free special cutting technology development and lifelong technical services.
Software Features
1. We are the first company developing the square tube cutting and beveling machine in china.
2. It's easy to operate as model making is easy . with simple training , the user can operate. You just need to input wall thickness , bevel angle , threading length on the software, it can cut directly with the graphics in the gallery .
3.Our software has good compatibility , support TEKLA, AutoCAD, 3D ,3S, STCAD.
4. Optimized nesting method can save 1-2% of the material.
5. Support continuous cutting.
6. Support small angle cutting and twist angle.
7. With Rich graphics database ,free offer to the customer.
8. Software can enjoy lifetime updates for free.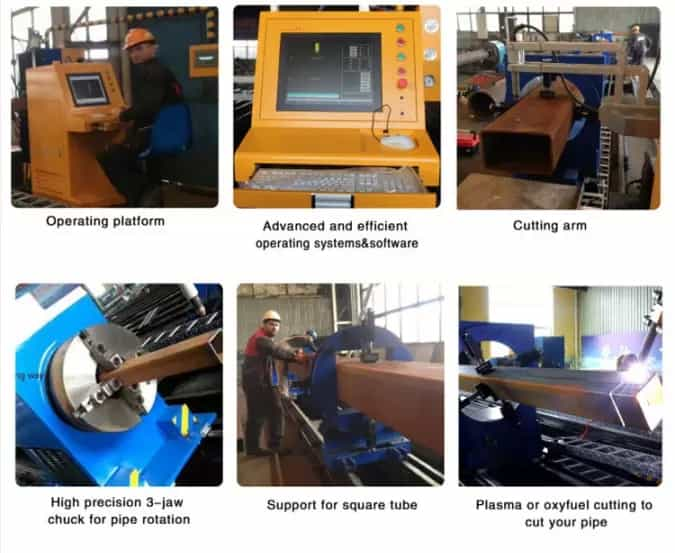 Advantages
1. Adopt welded platform, heavy rail and improve the overall bearing weight, human design human-computer exchange more convenient and reasonable, stable operation and increased life expectancy.
2. Independent research development to optimize CNC pipe systems, auto CAD version of the engineering design can generate standard G code directly, three-dimensional simulation of the operation, node expansion, long split pipe, fittings optimization, over sized EGES DXF SAT and STL software compatibility and lifetime free upgrade process can be modified according to user needs.
3. Taiwan's Advantech industrial computer can be programmed directly on the machine. Using menu-select input cutting parameters such as diameter, wall thickness, bevel angle deviation compensation data.
4. Maximum and minimum cutting diameter and pipe length can be designed according to user requirements.
Cutting Samples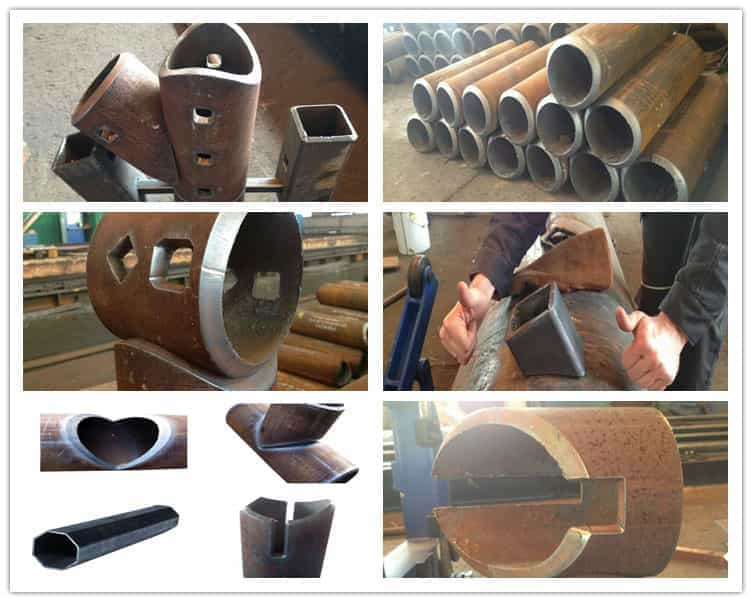 Our Services
1.Two years warranty, free maintenance throughout service time. If Spare parts are broken, maintenance or replacing of new parts are free.
2.Free technical support through email, telephone, online chat tools such as Teamviewer.
Teamviewer is our remote assistance application that allows our engineer to help solve your technical query.