Chain type steel beam rotator machine
Brief Introduction
Chain type steel beam rotator, beam rotator, H beam chain rotator, chain rotator, beam chain rotator, beam flipper
When manufacturing heavy or complex components, steel structure enterprises often face problems like low turnover efficiency, high risk and surface damage of components. Our company's chain turn-over machine can solve the above problems well.
YM-LFZ Series Chain Rotator Machine;
Use:Beam chain rotator is used for the turning and short-distance lifting of complex heavy-duty steel structural parts;
Features:
a. Beam chain rotator: Remote control operation (easy to learn)
b. Beam chain rotator : Stable operation, no skidding and no inversion when overturning large components
c. Beam chain rotator: The turning angle is adjustable and can be turned 360°.
d. Beam chain rotator: High security.
Beam chain rotator Max. lifting:10T;
Beam chain rotator Max. turn over Size (Section):1500mm*1500mm
Beam chain rotator Max. Turn over length:≤15M
Beam chain rotator turn over Speed:4000mm/min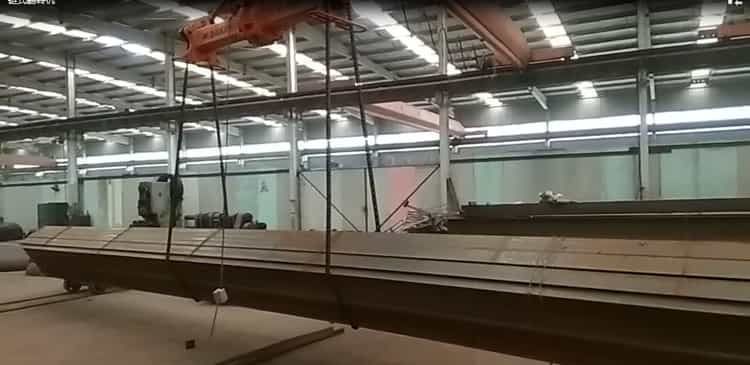 Advantage:
| | | | | |
| --- | --- | --- | --- | --- |
| No. | Items | Traditional rotating | Chain type rotator machine | Comparison |
| 1 | Rotating method | Use hooks, wire ropes, chains, etc. | Use a rotator machine. | Traditional way is easy to wear lifting locks. |
| 2 | Productivity | Low | High | |
| 3 | Impact on quality | Damage to component surface; often bump during turning over, resulting in deformation of the parts plate. | Rotatoring process is stable and runs with special protective tooling. Component surface is not damaged. | Rotatoring machine has no damage to the components and is not prone to bump. |
| 4 | Operability | Complex operation(requires many people to cooperate). | Remote control operation, simple & easy to use (single person can do it) | Rotatoring machine is easier to operate. |
| 5 | Safety | High safety risks. | low safety risk. | Operator is away from the site, machine runs stably, with high safety factor. |
| 6 | Price | large loss of sling. | Low cost | |