Steel Shot Blasting Machine

Shot Blasting Machine is mainly composed of the following systems
☆Workpiece conveying system ☆Shot blasting cleaning chamber
☆Pellet circulation system ☆ Dust removal system
☆Electrical control system
Steel Shot Blasting Machine is a large equipment covering big space. Shot blasting machine working site requirements: The length is not less than 2 times length of workpiece + the length of shot blasting machine + 3 meters (the space left at both ends), the width is not less than 7 meters, and it requires passing height is not less than 7.5 meters.
The user should prepare one air compressor, the displacement is 1.5-2m3/min, and the pressure is 0.6-0.8Mpa.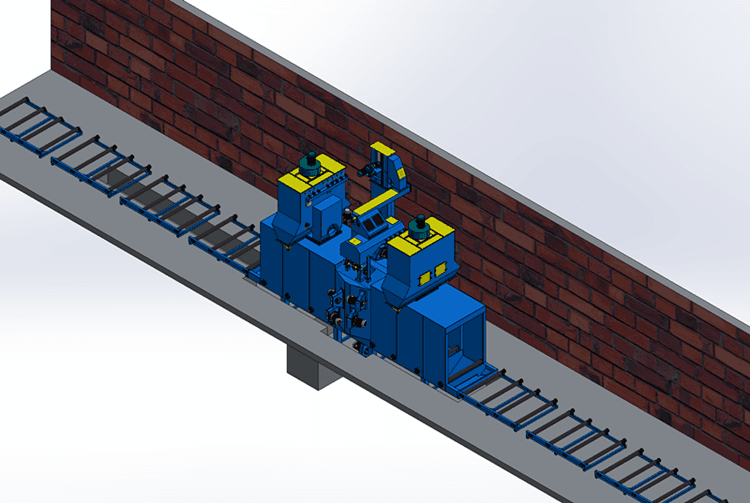 Model




HP1822-10

Cleaning workpiece Size(mm)

Allow passage through section (width x height)

1500×2100mm

Main chamber opening size (width × height)

1800×2200mm

Workpiece Length

15000mm

Productivity (workpiece passing speed)

0.6~3m/min

Shot blasting machine

Model

KRQ-0338Z

Quantity

10

Shot blasting amount

10×220kg/min

Power

10×11kw

Hoisting Machine

Lifting amount

150t/h

Power

11kw

Longitudinal screw conveyor

Conveyor amount

150t/h

Power

11kw

Splitter

Splitting amount

150t/h

Top screw conveyor

Power

7.5 kw

Dust removal system

Handling air volume

26000m3/h

Power

15kw×2

Input and output roller

Allow load capacity

1000kg/m

Motor power

2×2.2kw

Transfer speed

0.4~4m/min

Roller bearing capacity

1500kg/m

Roller length

12500mm

First time added steel ball amount

6000kg

Total power (kw)

About 173.9kw
Advantage
1.Workpiece Conveying System
The workpiece conveying system consists of feeding in roller conveyor and feeding out roller conveyor. The feeding in and feeding out roller paths are made by steel pipes. Both ends of the front and back sealed chambers are sealed with labyrinth to prevent pellets from entering the bearing.
2 Shot Blasting Cleaning Chamber
The shot blasting cleaning chamber is composed of shot blasting chamber, front and back sealing chamber, and a blasting machine assembly.
3 Pellet Recycling System
In the whole process of pellet recycling, hoist machine plays a role in linking up and down. The steel shots from the lower chamber are fed into the upper spiral by the hoist machine. In this process, the pellets are mixed with oxide scale that fall when components are cleaned and fine particles that are broken after the pellets are broken.